Last year, the FOF Canada Board of Directors discussed the need and the schedule for replacing the two aging vehicles used by Faith's team in Zambia. The plan initially was to replace one at a time over the next two years. When we learned of an opportunity to purchase Land Cruisers at an amazingly low price, it was decided to act immediately and purchase two.
Land Cruisers are ideally suited for our work of distributing clothing and other supplies to our twenty four Centres. The reliability these new vehicles afford will mean the prospect and concern of a mechanical break down while out in the remote villages where maintenance and parts are unavailable is reduced significantly.
Also, the rugged suspensions of the Land Cruisers are built to handle the kind of 'roads' Faith and her Team must often travel to reach isolated centres. A trip from the Skills Training Centre in Kitwe to the Lungwa Centre is only a distance of 52 kilometres, but it can take just over two hours! Such are the conditions of some 'roads'.
Faith has sent us a video and a photo showing the FOF staff and students in Zambia celebrating and dedicating the two new vehicles to God's work.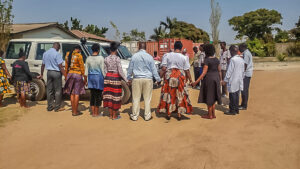 Rural 'Roads' in Zambia
While there are some good roads that Faith and her Team travel on, this video will give you an idea of the difficult roads that she needs to drive on to reach some Centres. The new Land Cruisers are well suited to tackle these 'roads'.